This site uses cookies. By continuing to use this site, you are agreeing to our use of cookies.

Learn More.
Brigand's Haven
So while I am necessarily not very well known for making coherent and intelligent posts at times.
(all the time.)
I actually do try and creatively write... in fact it's a strong-suit for me unlike Voice acting, map making, drawing, etc.
Problem is i'm trying to make a magnum opus/ Graphic novel of sorts, titled the 'Beauty of Conflict' for what feels like 6 years... ;-; and I've had to revision it A LOT.
The manga would take place in the ruins of 3 Northern kingdoms that are occupied by a shit ton of undead that had invaded almost 60 years ago. (Sound familiar? good.) All that remains of the North, however are small pockets of resistance littered about the lands of Germanic-seeming Humans, snow elves, and Dwarves to some end. It's a war for survival as the unified armies of these 3 races try to combat that of the rising shadow. Using any resource they can get in the great war, Weapons, faith, other survivors. All that, in the name of mankind's survival. They all...
Hello all
Edit (idk why this didnt go through
First of all i want give shout outs to everyone in LTF community, specially
@Marshmalo
! LTF has been growing rapidly since new updates and probably one of the most hosted or the most hosted on MMH rivaling LTA! Quite often hosted on ENT too!
Also just to raise awareness giving a quick promotion to
Krasnolud Nabi
youtube channel and the polish LTF community! he has been doing a lot of LTF spectates recently! if you got good replays you can some to him as well!
getting to the point
Just making this thread to reflect on the 6v6 balance of the game (0.14)! This thread only involves the 6v6 part so dont want any discussions on Neutral factions, Betrayal paths or even parts of civil war here! Basically i will just point out the imbalance in the 6v6 part alliance is just smashing evil in 0.14
I have not spectated/played that many games of 0.14 yet and...
EMPLOYING THE DWARVES OF DUN GAROK
​
So, Garithos in the old days had employed dwarves to fight with him, as seen in the Undead campaign's chapter six.
I was thinking, since Gari's path is a little lacking in content right now: Why not have him employ the Dwarves of Dun Garok to help him?
The benefits to this are first of which:
Militia Archers are replaced with New Alliance / Dwarven Rifleman (who might be a lil stronger? If Dun Garok dies however they will still be buildable)
Secondly, he could gain the privilege to produce 2-3 Mortar teams if Dun Garok is alive. (if it isn't he can't produce mortars.)
HERO: CAPTAIN IRONHILL
http://wow.gamepedia.com/Captain_Ironhill
Model: Dwarven Warrior
Voicelines: Mountain-King
Main Attribute: Strength
Abilities:
Storm Bolt
Healing Wave
Bash
Reincarnate
Ironhill would be tied to the Dun-Garok building of course, so if it dies he becomes unrevivable....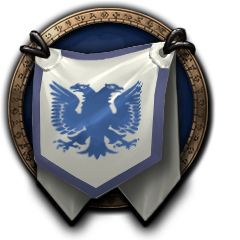 ​
Light Blue is a faction that combines the gapless of L:TA's Dalaran and Argent Crusade. Light Blue starts the game with Theramore Isle as its capital, a formidable fortress with restricted access from both land and sea.
Theramore is only accessible from land by a single, narrow bridge. This, coupled with a strong gate means that a only a
small amount of defenders can hold the causeway
against overwhelming odds. On the other side of the isle, an open harbour allows for access by sea.
It is crucial that Light Blue be proactive and fight to secure its hold on Kalimdor quickly, as the
ogres of Stonemaul
may soon rise up under the command of their new chieftain, Rexxar, and LB may find itself penned in.
In order to counter such a threat, the Kingdom of Theramore has a set of strong,...
In this thread lets post funny or strange situations in terms of lore. Let it be in a little RP style.

I mean not simple
"KT as arch-necromancer was aiding Legion in reclaiming Black Temple"

but

"Arch-necromancer Kel'thuzad after retreating from schoolmance alive, ran away to Northrend, then came back with plague to Lordaeron again, he found out that alterac gateway was destroyed soo he decided to contact his master Archimonde in person, soo he did. Then he was ordered to lead assault on Black Temple conquered by Illidan and his fel horde."

When I am looking at this now maybe 1st option was better :/

Whatever, just post random lore moments from online games on this map, screenshots would be nice ^,^